Frequently Asked Questions
This FAQ page will hopefully answer all of your questions, but if you do require more information, then please feel free to contact us directly. 
Do You Have A Size Guide?
Of course we do.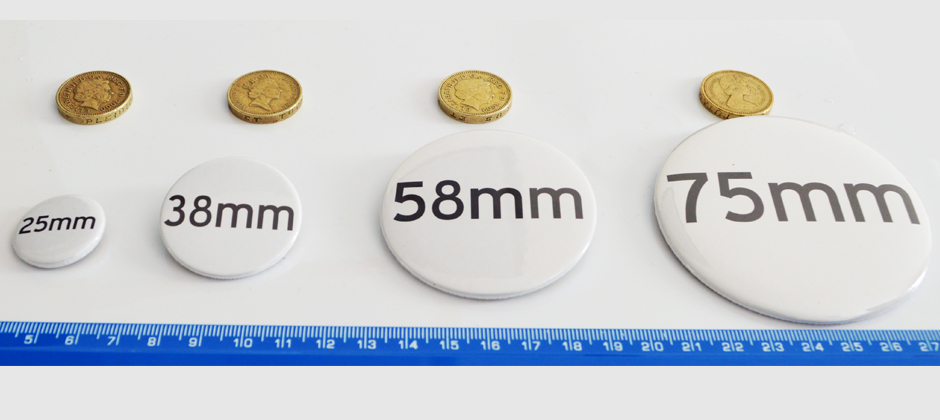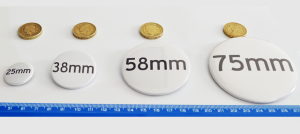 How Quickly Can You Make My Badges?
This depends upon how many badges that you require and also what type of badge.
For example, with our button badges we aim to have badges dispatched within 2 working days, unless the order is large (>1,000) in which case we can advise of delivery timescales, but we're certainly not talking months.
Our resin badges typically take 4 working days to dispatch as the "dome" is applied as a liquid that needs to cure fully before dispatch.
For urgent orders though, we do offer a next day service (applicable to button badge orders
What Delivery Options Are There?
By default, all UK badges are sent via the Royal Mail's first class post. Heavy packages will be sent using ParcelForce or InterLink Express.
If you would like a next day signed for service please let us know and we will quote you for either a Royal Mail Special Delivery or a next day courier service.
International deliveries including any goods being sent to Southern Ireland will be sent by Airmail, Airsure or by FedEx International.
Are There Any Set Up Costs Or Hidden Charges?
We believe in a fair and open pricing policy. There are no set-up costs or hidden charges.
All of our current prices can be found here: Badge Boy Prices
.
What Is The Status Of My Order?
By using your order tracking number, you can check the current status of your order here: Order Tracking
Once your order has been dispatched, we will automatically send you an email to let you know.
.
Is There A Minimum Order?
Absolutely not! Unless you count 1 as a minimum 🙂
In What Format Do You Want The Artwork?
We can work with most graphic formats but please ensure that the print quality of your image is set to at least 300dpi.
Popular formats include hi-resolution JPEG, Photoshop PSD files, Illustrator AI or EPS for a PC, PDF and Tiff. 
You may even have other file types on your computer, such as Word or PowerPoint files which we can use, but the final image quality is heavily dependant upon the type of file that you send us and as such we cannot print to a good standard if the quality of the file received is of a low resolution.
You can send us your artwork here: Send Artwork
Can You Help Design The Badge Artwork For Us?
We can certainly help, although we are badge manufacturers and not specialised graphic artists ... but we're not completely hopeless 🙂
We also hope that our design online solution & customisable templates will help you, as the user, to create the badges yourself with the minimum of pain.
Note: Computer generated proofs are not always representative of the exact colours which will be re-produced when the badges are printed.
Can I Cancel My Order Once Placed?
As long as your badges are not in production, then you can cancel your order and receive a full refund.
If your badges are either in production or post production, or your order is a next day order, then unfortunately your order cannot be cancelled. You will automatically receive an email when your badges have moved from "pending production" to "in production" status.
You can see the current state of your order by clicking here: Order Tracking
What Are Your Payment Terms?
As an online company, we do require payment for all badges to be made before badges are produced.
The only exception to this is with councils, schools, government bodies and some companies where an official purchase order number is supplied. In these cases we will allow credit for 30 days, but please contact us to arrange this facility.
Following this policy enables us to offer very competitive prices and ensures we stay in business where others fail.
What Is A "Dome" Or "Resin Badge"
A dome is a liquid polyurethane resin that is applied to the front of a badge in order to create a 3D effect, protect the face of the badge and to prolong the lifespan of the badge.
Please note: Due to the resin coating images may appear lighter.
You can find out more about our resin badges here: Domed Badges & Resin Badges
What If I Want To Re-Order More Of The Same Badges?
We are pleased to say that repeat orders make up a large part of our custom. 
All designs are stored on file, so to reorder simply let us know how many more badges you require and we'll get started.
Will My Badges Look Good?
Of course they will!!!
More seriously though, it is important to bear in mind that the final quality of your badge will depend upon the quality the images that you supply to us. All our badges are printed at a minimum of 300dpi (dots per inch).
All our printers, which are 4-colour digital printers, are professionally calibrated by specialist engineers each month to ensure perfect colour printing.
What Is Your Returns Policy?
We pride ourselves on the quality of every single badge that we produce for our customers, and while it is extremely rare, sometimes things do go wrong. Therefore, in the unlikely event of a manufacturing error, you may return your badges to us within 7 working days. 
We will cover all postage costs in the event of a faulty item being returned, as well as refunding your money in full.
All that we ask is that you contact us on the phone number above (don't worry, we're really friendly .... even on a bad day!!!), or via our contact us page in advance, so that we can make appropriate arrangements for you.
Please note though, that due to the hand made nature of our badges and the fact that each print run is unique to the customer, refunds will only be given in the case of a defective product. 
I Still Have Questions!
Then please feel free to contact us.
We're very friendly and will help in any way that we can.